So I've been back home after a 5 month stay in Leeds at the National Inpatient Centre for Psychological Medicine, (or NICPM for short), for two weeks now. As a result I thought I'd give you an update on how I am an a little bit about my stay. Feel free to comment with any questions either below or on Instagram and I'll answer the few Q & A questions people asked me on Instagram in another post or YouTube video (or both, I haven't decided but I want to do more on my YouTube channel). Any way back to this post...
If you haven't read my posts going through my journey through my stay basically the NICPM gives 'biopschyosocial holistic care to individuals with complex functional disorders, medically unexplained symptoms and physical/psychological co-morbidities'. It has 8 beds and to an extent 4 beds for local patients and 4 beds for national patients who come from all over the UK including Northern Ireland.
(I'll put links to my rehab updates below.)
To be honest in my opinion, it's kind of been given the wrong name as the 'Psychological' part to me implies that your illness is 'all in head'. When yes there may be an emotional element (being chronically ill with a persistent torrent of symptoms due to a poorly understood illness undoubtedly will affect you emotionally), but the staff where all agreeable in the fact that our illnesses and symptoms where real and physical.
I mainly went to to deal with my complex list of medical conditions that included FND (Functional Neurological Disorder), non-epileptic seizures, M.E (Myalgic Encephalopathy) and other symptoms that didn't fit nice and neatly into a diagnostic tick box or 'medically unexplained symptoms' (just so they can have something to write).
Before going to Leeds I was receiving little support manage my health and I was petty much house/sofa-bound. Then to go to 24/7 support was amazing. What I liked was that fact that until the end of my admission diagnosis wasn't focused on much. It was more a holistic bubble of 'this is Naomi; these are her symptoms; this is what support she needs; these are her goals etc'.
One of the big downfalls for me was that because I was an out-of-area patient my stay was on a funding time limit. Initially I was given 12 weeks and I felt a pressure to make the most of my stay so reflecting back I feel that I pushed myself because of this. We managed to get two extensions from the CCG (the local NHS funding body that paid for my admission). This first was for a further 8 week stay and then 3 weeks to bring my admission to an end.
I didn't feel ready to leave. I knew I wouldn't come out cured and I did come out with lots of skills and knowledge and some improvement in activities or confidence but I didn't feel like I'd completely accomplished certain tasks that I wanted to leave feeling like 'yes, I can do this without much of a problem now'. But my stay was a positive one and I got a lot out of it in different areas. I also enjoyed the social aspect both with the staff and the other patients.
Some of the things that I got from my stay are:
Developing a routine

Learning how to pace and grade activities

Increasing my ability to engage in activities

Knowledge/skills on how to cope better practically and emotionally

Basic cooking (I especially love making omelettes and I've made quite a few since coming home)

Going out and feeling more confident and coping with going out

Being able to go out shopping and into places like cafés

Social skills

Seeing to my own personal care

Managing my hypersensitivity especially photosensitivity

Working with the physiotherapist to improve my strength and mobility

Working with the occupational therapist on managing daily living tasks

Help with improving my sleep

Improved confidence

Being able to be more assertive
Coming home has certainly been a challenge to say the least especially with this coronavirus outbreak as a lot of the support that was put in place for me has either been put on hold or been reduced and it's now just telephone contact. As a result I feel like I'm trying to muddle through on my own and it's not been easy. It's hard as I went into rehab stuck at home, working hard with my rehab only to come back home to being back stuck at home and not know how long the country will be on lockdown for. I feel that the timing of my discharge was bad timing but the funding had come to an end and I feel pretty helpless.
At the moment I'm just doing my best to stick to my daily plan as best as possible, do my physio and just generally trying my best.
I've had to phone the ward a couple of times and there's been my telephone appointments as well as returning back to being my own medical sectary with making phone calls and sending emails. I've checked in with my advocate an I need to email her again. Today the clinical pharmacist at my GP practice phoned to check I was okay for medication which was nice with her to do. I've phoned the pharmacy a couple of times; the first time I called they said it was nice to hear from me as they knew I was going into hospital and they'd been wondering about me as it'd been a long time.
The past few days and nights haven't been easy with increased pain, fatigue and a non-so-good seizure the other day. I'm just feeling so exhausted all the time and I'm worried about slowly sliding back. However I'm just trying to focus on the current slot in my daily plan and the skills and improvements I've made and refer to my 'Crisis and Relapse Prevention Plan'. Hopefully with time my routine will become more established and I'll have the skills to cope with the ups and downs of not just chronic illness but life too.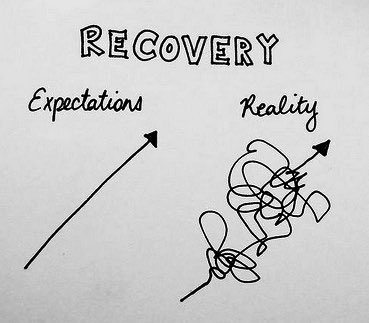 NICPM Update Posts...